Donation supports Northwest Community College students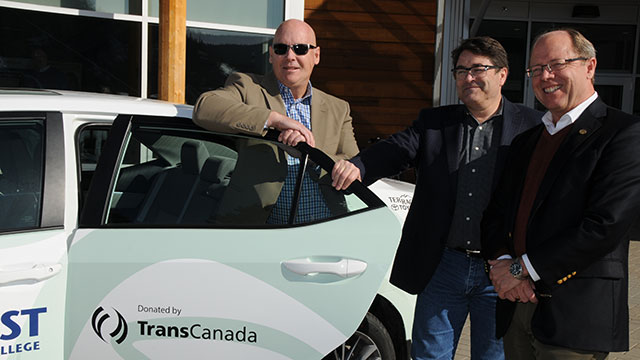 Ready to roll: Prince Rupert Gas Transmission VP John Dunn, left, along with Coastal GasLink VP Bruce Wells and Northwest Community College (NWCC) President Ken Burt, prepare to take a spin in NWCC's new TransCanada-sponsored driver training car.
TransCanada supports the need for a skilled work force and allowing students to obtain the education and employment skills to meet increased workforce demands in northern communities.
TransCanada donated $250,000 to the Northwest Community College, in northern B.C., as part of its Pathway to Pipeline Readiness program. Prince Rupert Gas Transmission and Coastal GasLink projects both contributed $125,000 to the overall donation.
The donation will help provide bursaries aimed at Workforce Training & Continuing Studies and Trades students.
"Bursaries are critical to providing many students who would not otherwise have the financial means, to access further training and studies," says Northwest Community College President, Ken Burt.
In addition to bursaries, this funding enables Northwest Community College to establish a new graduated driver's licence training program and the purchase of a specialized vehicle to deliver the training. Students in remote communities have long indicated that not having a driver's licence has created a significant barrier to employment.
Through this support, Northwest Community College is investing in students and programs that meet this need in the communities it serves.
"Northwest Community College is very happy to offer bursaries and new programming thanks to TransCanada's investment in our students," says Burt. "We are committed to providing programming that fills gaps in communities and that supports the future success of our students."
The first driver's training courses will be offered in Moricetown this spring. This donation has provided for the first cohort to participate tuition-free.
"Through discussions with local residents, community leaders and Aboriginal groups, we have learned that investment in skills development and long-term education legacy programs are important to northern British Columbians," said Tony Palmer, TransCanada's senior vice-president, stakeholder relations.
TransCanada is developing more than $13 billion in new natural gas pipeline projects in northern B.C. in support of the emerging liquefied natural gas (LNG) industry.
"We are working diligently with northern educational institutions such as Northwest Community College to ensure residents are able to access training in the essentials skills and relevant trades needed to participate in pipeline and other development projects in northern B.C.," said Palmer.