Coastal GasLink team climbs for cancer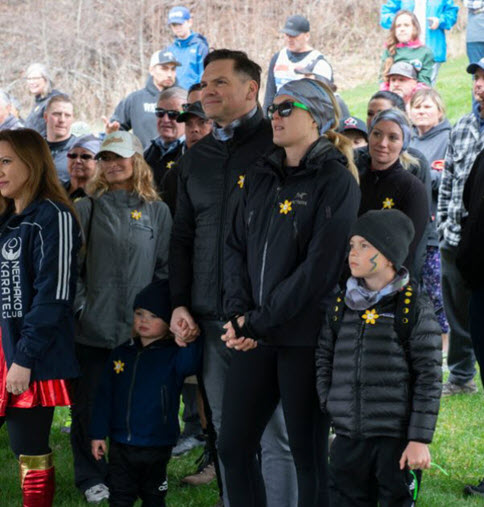 Coastal GasLink President David Pfeiffer and his family were among the members of the Coastal GasLink Climbers who scaled the notoriously steep Prince George Cutbanks on April 27, raising more than $7,300 in support of the fourth-annual Climb for Cancer. More than half the funds raised were matched through Empower, TransCanada's giving and volunteering program which supports and encourages employees and contractors to give back to their communities. The team also won the Spirit Award for their collective efforts.
"It was empowering to see the team and community come together for such an important event, we've all had our families impacted by cancer and we all want to help the cause," said David.
The Climb for Cancer is a community-based fundraiser that supports the mission of the Canadian Cancer Society. The event and the funds raised is made possible by community involvement, including residents, businesses, and of course many families.
It was the first time a Coastal GasLink team participated in the event and its members hail from Prince George, Fort St. John, Vancouver and Calgary. Coastal GasLink also sponsored the event.
The funds raised by the Coastal GasLink Climbers will support the Kordyban Lodge, which provides accommodation to cancer patients and their caregivers from Northern B.C. who need to travel for outpatient cancer care to Prince George.
"People travel all across the north for the critical services available here in Prince George and services like the Kordyban Lodge are equally as important," said Team Captain Tanner Moulton, Public Affairs Coordinator who is based in Coastal GasLink's Prince George office. "The funds raised to support the lodge will help offset the expenses to patients and their families from across the north. We're proud to be a part of helping to make that happen."
As the President of Coastal GasLink, David is committed to spending time in the communities along the project route to learn first-hand what matters most to those who call northern British Columbia home. David was joined by his wife and two young sons who were excited to see where he works and to participate in helping raise funds for an important community cause.
"It was such a great day," said David. "The community of Prince George has been a big part of our project success, it was important for all of us to be here today to do what we can to give back."
Whether it's partnering with community groups or supporting local initiatives, Coastal GasLink is committed to helping to build strong and vibrant communities where we live, work and operate. To date, Coastal GasLink has invested more than $6.5 million in local communities, with construction underway we will continue to invest in initiatives that support local communities for the near and longer term.